Sudoku Bot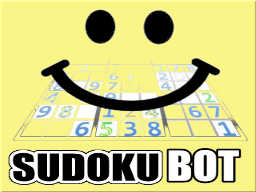 SudokuBot let you play sudoku puzzles.
/info – for information about Sudoku puzzles.
/help – Show this message help.
/easy – Start an easy puzzle.
/medium – Start a medium puzzle.
/hard – Start a hard puzzle.
/stop – Stop a game and delete its progress.
/controls – Show alternative controls for Telegram clients that do not support custom keyboards.
;